Dogs love to stay and play when their owners are away! Unlike a traditional boarding kennel, our focus is to provide that home away from home environment. Lots of loves, playing and exercise!
SPECIAL FEATURES & OPTIONS
Large indoor climate-controlled accommodations in the Luxury Suites. TV's in or viewable from every Suite.
State-of-the-art air conditioning systems that generate 6 air exchanges per hour.
At least 5 outdoor visits a day.
Group play in Doggie Daycare for approved pets. (Additional Charge)
Special Care and Attention
Variety of Extra-Care Services to choose from
Gourmet treats and bed-time "tuck-in" service available.
Custom meals, fresh water and all medications at no additional charge.
Dogs in the same family can stay together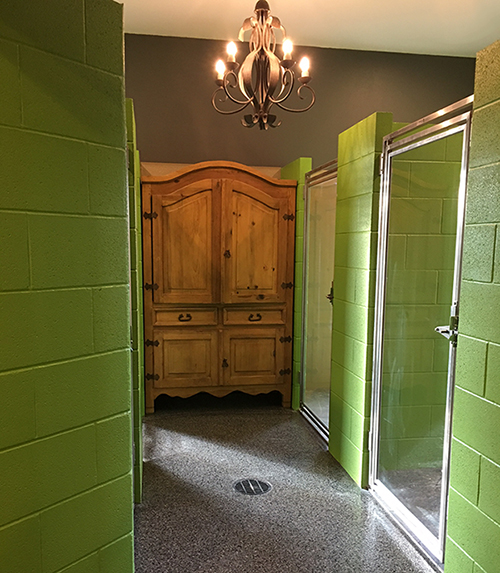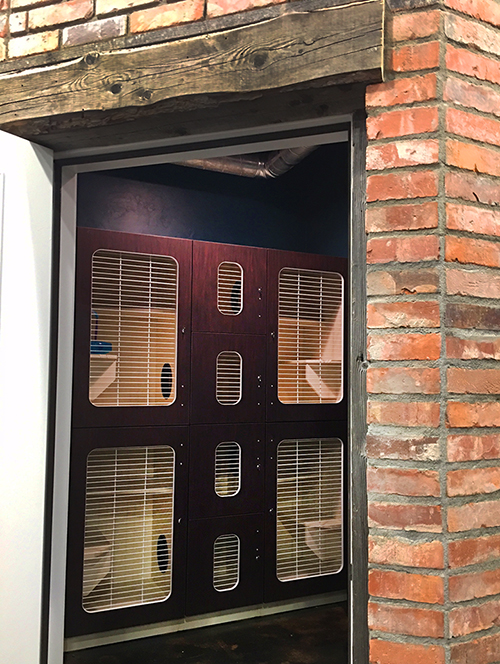 MEAL & MEDICATION INFORMATION
We highly recommend providing your pets' normal diet during their stay at our resort. This will help with any pets who may have a sensitive stomach and help them to feel at home. Please "Pre-Bag" their food for each meal. If their morning feeding is different than their evening feeding, please label AM or PM. This helps to make sure they receive the same measurements as that would at home.  House food is available for $1/cup.
Medication is an extra charge, based on the complexity of application.
Classic K9 Suite
$

30

4x6, Viewable TV, Music, Glass door$43/day for 2 Dogs$53/day for 3 Dogs
Classic K9 Family
$

32

4x8, TV, Music, Glass door$45/day for 2 Dogs$55/day for 3 Dogs
Hilltop K9 Suite
$

35

4x9, TV, Hilltop view window, Music, Glass door$48/day for 2 Dogs$57/day for 3 Dogs
VIP K9 Suite
$

36

6x6, TV, Music, Exterior window, Heated Floors$49/day for 2 Dogs$59/day for 3 Dogs
Presidential K9
$

40

6x8, Private room & play yard, TV, Music, Glass door$53/day for 2 Dogs$63/day for 3 Dogs
Tiny Town K9
$

26 Play room for small dogs, cots, TV, Music, Window, kenneled at night
$42/day for 2 Dogs
Play & Stay
$

15

Boarding dogs wanting to join in on our all day FUN in daycare.
SLUMBER PARTY*
$

39

(Per night, includes all day Daycare)
CAT BOARDING
$

16

Cat condo with lots of interaction, own litter box, play time(1st Cat, Per Night)
All suites include 5 outdoor potty breaks, comfy bedding or raised cots
* SLUMBER PARTY IN A BUNK ROOM
Does your dog want that extra attention and comfort of other companions? We offer slumber party style sleepovers with a nightly movie in both our big and little dog areas. There are comfy beds in each of the sleeping areas, so if several dogs want to cuddle together they can! Or if someone prefers to sleep on the sidelines alone they can! Must have gone through 1 week of doggie daycare to ensure it is a good fit for your dog. $39 per night and includes all day daycare
A LA CART & ADD ONS
Playtime $7.00 – 15 minutes of ball throwing and dog-park style fun one on one time
Potty break $4.00 – Just a few minutes outside with no other dogs to take a quick potty break. Perfect for those overnight dogs that need a few more potty breaks.
Stuffed Kong $ 4.00 – Frozen Kong stuffed with peanut butter or other tasty filling
Bedtime story $5.00 – Do you read to your kids every night while your pet lies by your side? He probably enjoys it just as much as your kids do. We'll read a book to your pet before bed to end the day on a high note.
Tuna on a Ritz $3.00 – A Ritz cracker piled high with tasty tuna—every cat's favorite.
Treat time $3.00 – A serving of lactose-free ice cream topped with crunch dog biscuits.
Snuggle time $7.00 – Do you have a pet that just needs to be held? We offer 15 minutes of lap time and loving to make your pet feel extra special.
Individual private walk $7.00
Medication-Depends on the complexity of the application.
Late fee-$10 fee/family after the 1:00 pickup time with boarding
HOLIDAY PRICING & HOURS
We have special pricing Thanksgiving week and the last 2 weeks of December, along with Easter, Memorial day, 4th of July and Labor Day. We charge $5 extra per night per dog during this time.  We are closed for drop offs and pick ups on all major holidays. There is also a summer seasonal rate of $2/pet/night from June 14th-September 3rd.